One of the less "fun" parts of gaining your FATPL (Frozen Air Transport Pilots License) is pass all the ATPL theory exams. Now there are two methods that you can use to do this. You can study in-house in a classroom environment or you can do distance learning normally around your job. Everybody is different and has different needs so it's up to you to decide which is best for you. ATPL ground school in house v distance learning.
The benefits of the ATPL in house ground school
No interruptions – A distance learning course can of course be done full time however most people choose it as they need to fit it in around their current job. You will study full time Monday to Friday with addition revision done at home in the evening and weekends. This will be an intense period of study with the aim to have all the exams passed in a few months.
Teachers to ask questions to – Having a teacher to ask questions is another useful learning tool. This is especially useful if you find yourself stuck or struggling on some of the information.
Classmates to study with – Again having classmates to study with and just bounce things of makes the material easier to learn for some people.
The benefits of ATPL distance learning courses
Can fit it in around your life – Don't get me wrong, there is still a lot of work to get through. You can keep your full time job but you need to be prepared to give up your evenings and weekends to get through the material. In fact it will most likely feel like you are holding down 2 full time jobs.
Refresher courses – Before you sit your exams you will normally have a 1 week course to make sure you have learnt the information in a classroom with teachers and other distance learning students.
Cheaper – You are not in an office full time and do not need as much of the teacher's time so the cost of the distance learning course is normally significantly cheaper than the full time course.
As you can see, both methods have their place and it really depends on your approach to your flight training. If you need the full time submerged training you have the full time in house course. If you need to fit it in around work then the distance learning is an option. It is up to you to decide which method is best for you.
I would prefer to do an in house ground school course but that would mean giving up my job and my income. Unfortunately I need this to complete my training and help fund the CPL/ME/IR so I will have to do a distance learning course.
Thinking of training via the modular route? Or started and still have questions? Then read The Essential Modular Flight Training Guide.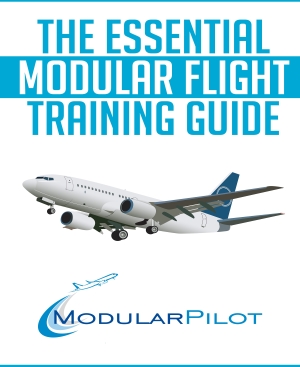 Subscribe to Modular Pilot via email