A whirlwind week for me as I tried to get 4 exams done here are my ATPL Module 3 results.

I tried to sit these exams in quite a short period after my last set due to the upcoming uncertainty with the new quadrant system and the CAA's track record of badly implementing new changes.
I had a lack of holiday so I sat every exam at 11.30 then went back to work till 4.30 every day.
Performance – 80%
Quite annoyed with myself on this as one of the graphs I hadn't seen the variation on the style of question they asked before so it threw me and cost me 3 points.
However, it seems like I must have got the other graphs right which is good as I didn't spend a huge amount of time studying graphs. I just used the examples on the graphs we was given to get to what I believe must have been the correct answers.
I got one graph I hadn't seen before.
After knowing that I got a 3 point question wrong after I came out and looked it up I was worried about this but I am glad that I passed.
I didn't really get any "matter of fact" questions in fact I only recall getting one.
VFR Communications – 79%
I am a little frustrated as I tried to sit these communications exams ages ago well before quadrant and was told that I couldn't until after the revision week. On the revision week we spent a grand total of 0 minutes on communications but that meant that I now had to sit them on Quadrant.
I am not sure if this is a CAA rule or a Bristol rule however.
There was a lot of new questions I would say 60% or more and at least 2-3 questions that I thought were more suited to the Radio Navigation exam rather than VFR communications.
Mass and Balance – 75%
Borderline pass here! But to be honest I am just glad that I don't have a resist in this subject because I have to work very hard at maths.
The test was similar question styles to what we have seen before with different numbers.
I had next to no theory questions in my exam and it was basically a pure maths tests. To be honest, I thought I did better than this but it is what it is.
Principles of Flight – 70%
My first fail! I walked out of this with a bad feeling and that proved to be correct. I found doing 4 exams in a week quite difficult and that coupled with the shorter study time probably led to this.
I am not going to rush into a resist on this, I am going to leave it till my 5th sitting as I still have 3 left.
In my next sitting I am going to sit General Navigation, Flight planning and monitoring, Operational procedures and IFR communications. I have a lot of things coming up and I know I struggle with Gnav so it is going to require a lot of practice. I am going to aim to sit this next set in December.
I do still have till July next year to finish the remaining exams so there is no rush.
Also I predict that maps will be banned from Gnav at some point as they are now being printed in the workbook.
9 down 5 to go.
Thinking of training via the modular route? Or started and still have questions? Then read The Essential Modular Flight Training Guide.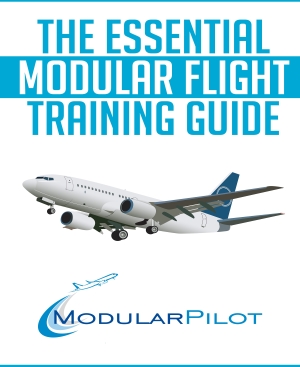 Subscribe to Modular Pilot via email