As it had been a month since I had flown and due to a pressing need to build hours before next year, I did Hour Building: Two local flights this weekend.

Just a quick update from me. On Saturday I did a local flight just in the local area from Blackbushe with my GF. I had actually just planned to do circuits as the weather wasn't geat but out of nowhere it cleared up so I decided to head out into the local area. I took the other club C150 for the first time. The one difference with this plane is MPH is the speed on the outer marker with knots on the inner so was just something to make sure I'm paying attention to. I departed Blackbushe and flew up to the north, across to the west in the area towards Swindon, back east towards Popham and then back north and into Blackbushe.
On Sunday I had a new passenger my GF's friend, who was in a small plane for the first time. I literally just flew around the local area trying to learn the local landmarks etc as I haven't spent much time in this area as I learned up in Cranfield. Also I didn't want to stray too far as I didn't know how she would like flying so I didn't want to be too far from the airfield incase she wanted to land.
The clouds were also a lot lower so I didn't stray too far but all in all it was a pleasant flight. My passenger seemed ok with it but almost threw up when I started the landing procedure back at Blackbushe. I hope this was no reflection of my flying skills!
I got another 2.4 much needed hours into the log book this weekend which takes me up to 72.5 total. The 150 I need to have by the time I start my CPL ME IR next year seems a long way away. I will really need to up the frequency I fly, but as I work mid-week and nowhere near the airfield I am restricted to weekends pretty much.
There are still quite a few airfields I still want to visit so hopefully I can visit them over the summer. I also have a week off booked at the end of July to hopefully get my hours up!
Thinking of training via the modular route? Or started and still have questions? Then read The Essential Modular Flight Training Guide.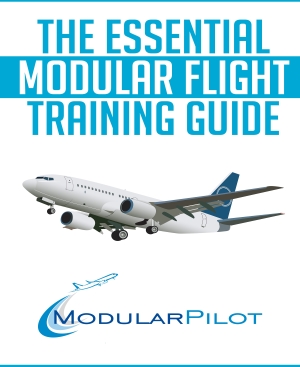 Subscribe to Modular Pilot via email