I can't believe that it has already been a year since I passed my ME IR, this means that it was time for a ME IR Revalidation.
First up, what's the difference between a revalidation and a renewal? Well if your IR is still valid, every other year EASA allows you to do a skills test in an approved simulator for your ME IR (this will not renew your MEP as that needs to be done in an aircraft). If your IR has expired, you have to do the test in an aircraft and this is called a renewal. Obviously, the aircraft is a more expensive option than a simulator, but you can also revalidate in an aircraft if you so wish. Unless you foresee a need for an MEP most people tend to let it expire. I mean, I have not rented an MEP in the last year as they cost a lot of money and my SEP aircraft is a much more cost-effective way to keep flying.
So what exactly does a revalidation involve? I have heard everything from shooting a few approaches to a full test. The school I did my training with do not do revalidations so I was left looking for options. What I wanted to do is find a similar aircraft that used a Garmin G1000/G950 as that would be more familiar to me. I am working full time and I had very little holiday available so going abroad wasn't really possible, I really needed to find something closer to home.
I booked my revalidation at a school in the UK on an Alsim DA42 simulator. My original training was in Poland on a Tecnam P2006T but how different could they be? Famous last words. There is the odd P2006T in the UK, however, I did not come across any P2006T simulators. I am not sure why the Tecnam isn't so popular over here but the schools tend to prefer the DA42.
Do you know what's hard? Passing your IR after doing 30+ hours of training beforehand. Do you know what's much harder? Passing your IR revalidation which was basically a ME IR test on an unfamiliar aircraft, with limited flying in the last 12 months, in 4 days, with a couple of hours training beforehand.
So onto the actual test. My test route was Bournemouth to Alderney and it included the following items.
Flight Plan
Mass and balance
Startup from cold with taxi etc
SID
Enroute
Partial Panel
Unusual Attitudes
Holding
Non-precision approach
Engine failure
Diversion
Precision approach one engine out
Visual circuit to land (A nightmare in a simulator where you cannot actually see the runway)
I spoke to a few friends who did their revalidation in the simulator and none of them were asked to complete a flight plan or mass and balance. I must admit, I have not completed either for a simulator session before. It does seem a bit excessive to be honest.
What also surprised me is how much DA42 information I was expected to know (but not sent) and at times the sim sessions felt a bit like a DA42 mini type rating, but I guess if that is what you are flying it makes sense to be up to speed on the aircraft.  If this information was provided to me beforehand I could have got up to speed before arriving. I am not sure if it was clear I had never flown a DA42 previously until I had arrived. In total, I did about 4 or 5 hours of sim sessions plus the test. I feel quite a bit of time was learning the DA42 and as said before this could have been done on the whole beforehand (for free) on the ground, rather than in a simulator but what's done is done.
In other ways, it was good to have a few extrea sessions with an instructor just to blow off the cobwebs and get back into the full swing of things.
What was crazy was how much your skills fade over the period of a year. When I passed my IR I felt very proficient to the point that it was all reasonably effortless. One year later it was certainly harder work but with me flying 0 actual IFR hours and then just a few simulator hours I guess this is to be expected.  Saying that, it is amazing how quickly it all starts to come back, especially when you have decent instruction in the simulator, which wasn't the case on my original training. In fact the original training consisted of being handed a plate or a route sat in a sim and being told to fly it. No instruction at all and everything was left to myself to work out. As you can probably understand, this was useless. If I had this level of instruction on my original training I would have got up to speed even faster that's for sure.
While I was there I did ask the cost of the CPL ME IR at the school, it was £30,000. In Poland, the cost of this training was €17,500 so I guess the old saying you get what you pay for is accurate.
I think what is important is to now stay on top of it the best I can using a home simulator (Xplane 11), it makes sense to fly the same route as I now have the plates and just let everything get sharper. I can then switch it up so that I am not rote learning rather than actually improving my flying.
Thinking of training via the modular route? Or started and still have questions? Then read The Essential Modular Flight Training Guide.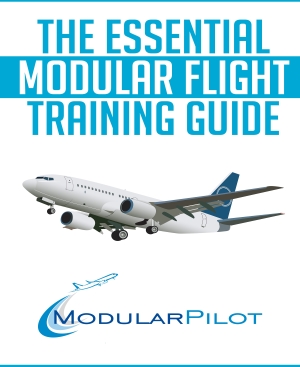 Subscribe to Modular Pilot via email