One of the things that is offered to a lot of new pilots is a starter kit. The Pooleys student pilot starter kit is a popular one for the schools to offer.
The thing I want to cover in this post is the question of do you actually need to buy this kit? In my opinion, I would say no, for the reasons I will explain below.
Please don't take this as me saying Pooleys make bad equipment, because they don't. Pooleys make great products and at some point in your flying you will most likely use something they produce (I'm looking at you CRP-1 or CRP-5).
I personally have purchased their protractor, log book, ruler, CRP 5 and they provided my CAA map, so let me say it again, Pooleys make great equipment.
The kit includes the following items and I will go through them one by one as to if you need it. This kit costs £229.99 direct from Pooleys.
1) APM Volume 1, 2, 3, 4, 6, & 7 – These books are good and well reviewed and they will get you through your PPL exams. However I brought a PDF called EASA private pilot studies for the grand old sum of £20.05. The books on the Pooleys website are around £23 each.
Are they worth the difference over the £20 PDF? I don't think they are. I mean I have passed 7 out of 9 exams so far.
2) Pooleys Spiral United Kingdom Flight Guide – A book of airfield plates, I haven't come across a need for this yet and most plates can be printed of the internet.
3) Pooleys NM-2 Scale Ruler – Useful, but can be brought separately.
4) Pooleys PP-1 Protractor – Again, useful but can be sourced elsewhere.
5) Pooleys CRP-1 Computer – This is needed when you start navigating, however, if you plan to go on to your ATPL you need a CRP-5 so this will be useless to you and you will have to purchase another one. So it would make sense to buy the CRP-5 in the first place.
I recommend Ebay rather than paying the £79 cost. I paid £37 for a brand new one, you can get them used even cheaper than that.
6) Pooleys CB-3 Kneeboard & Log Pad. – This is useful when starting navigation. A good way to keep everything organised.
7) Pooleys PPL Log Book – I payed a grand total of £10 for my logbook from my flight school. If you shop around you can probably get it even cheaper than that.
8) Set of permanent Lumocolour Markers – These are just marker pens, you can get these from any stationery shop.
9) CAA 1:500,000 chart of your local area – This is needed and you will have to purchase one at some point. The cost of these seems to be £15.99
10) Pooleys FC-8 Case – We all need a 'flight case' to carry our stuff in. However you say flight case, I say small holdall. The cost of the Pooleys bag on the website is £28.96 and the cost of the holdall I brought was £7.50. The design is basically the same.
So all in all, I would say you get a lot of things that you can get separate or elsewhere.
This is not to say that Pooleys don't make good equipment, of course they do, but I think you should build up your flight bag as you go along.
I am 15 lessons in and I have brought a holdall, protractor, scale ruler, map, headset, headset bag & a log book.
Don't get me wrong I carry other things in my flight bag such as my Dell venue 11, sunglasses, copy of my medical etc, but so far I just haven't needed anything else.
If you want an all in one kit then the Pooleys offering isn't a bad way to go, however in my opinion, you will be best of buying a bag and building it up as and when you need things.
Thinking of training via the modular route? Or started and still have questions? Then read The Essential Modular Flight Training Guide.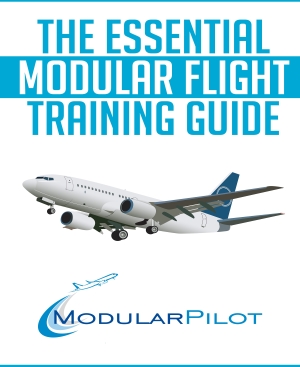 Subscribe to Modular Pilot via email