So I am late to the game on this one but this is my SkyDemon review.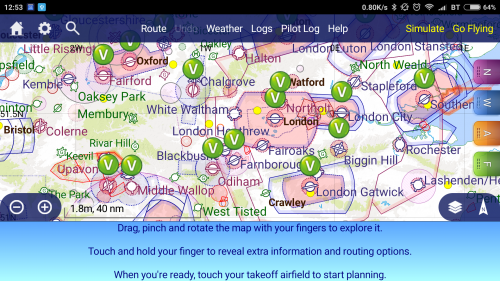 Now I am sure most of you are familiar with this software and most likely have used it a lot more than I have. I also know that there is a large group of people who are about to scream "children of the magenta line" or "maps and CRP", however this is 2017 and not 1950 when the skies were clear and you could fly where you like. Both GPS and old school navigation techniques are needed.
I recently changed my home airport from Cranfield where there isn't much restricted airspace around to Blackbushe where Heathrow, Gatwick, Oxford, Southampton and RAF Odiham are both literally on the door step along with all the restricted airspace that these airports bring not to mention danger zones etc. So as you can see it is a much busier restricted environment and you run the risk of airspace infringements more easily.
For these reasons I decided to invest in SkyDemon, a product that I have heard so much about and that I have never heard anyone say a bad word about. The cost is £139 for the first year and then £89 for subsequent years. I also brought a dedicated iPad mini 2 with LTE which is only for my flying apps so it doesn't get fill up with the other rubbish. It is only 16GB but when you use it like I do that is more than enough. The 4G part is important as it is only these cellular devices that have the inbuilt GPS in the iPad's. If you have a non cellular iPad then you will have to buy an external GPS receiver, but with Apple being Apple only certain (expensive) ones work.
NB – SkyDemon supports iOS, Android and Windows so you are not limited to an iPad. However, SkyDemon themselves state that the iPad is the best device to run it on and it also seems to have the least issues. I am an Android fan but I believe every pilot needs an iPad anyways.
In the cockpit I use a kneeboard mount which works great as I only need to glance at it every so often as my eyes are outside or on the instruments the majority of the time (as they should be). My mobile phone (Android) has it installed as backup but I haven't actually used it on this device in the air.
NB – I always have my map with me.
So what makes SkyDemon so great? Well it is its ease of use. Planning a trip is as simple as clicking your start point and your endpoint and then adjusting your route as you see fit (to avoid airspace, dangerzones etc). From here SkyDemon does the rest, it gets all your NOTAMS, TAF, METAR, Winds and the weather for you to check before you go airborne. SkyDemon can also do your mass and balance however I still do this separatly at the moment.
Next you can print out a plog that will have your legs, the time it should take etc along with all the radio frequencies that you should need en route. I really can't even put into words how simple the whole thing is and in my opinion these programs are becoming essential in our ever crowded skies. However yes I do agree that we should all still practice the conventional methods as no system is infallible and should my tablet and phone fail I will still need to be able to navigate using my map.
In the air SkyDemon will warn you if you are drifting of course, if you should change frequencies, of obstacles and most importantly of airspace. It really does allow you to concentrate on flying the aircraft as even when navigating with your map an accurate position is simply a glance away. Now of course we as pilots are never lost so to say but occasionally we can be "unsure of position". This takes the high workload of flying the plane, holding the map and trying to work out where you are away and changes it to a "oh I need to go left a bit". Anything that reduces workload in the cockpit and allows you to focus on flying is a positive thing in my opinion.
One of my favourite parts of SkyDemon is when you approach your destination it pops up and asks you what approach you want then draws handy arrows on the map so you can see visually what you need to do and circuit direction.
When you land you can pull up the Aerodrome information which will help you with your taxi etc, I mean SkyDemon even has fuel prices.
SkyDemon can also do your flight plans, give you estimation of leg times, warn of traffic, provide airfield layouts and information and probably a lot more that I haven't even managed to dive into yet. The maps are updated frequently and they seem to have maps for most of Europe as well as places such as South Africa, USA, New Zealand & Parts of Africa.
With the amount of money we spend on aviation I must say in my opinion SkyDemon is probably one of the best value bits of software you can possibly buy and I would not hesitate to recommend it. 5/5.
Thinking of training via the modular route? Or started and still have questions? Then read The Essential Modular Flight Training Guide.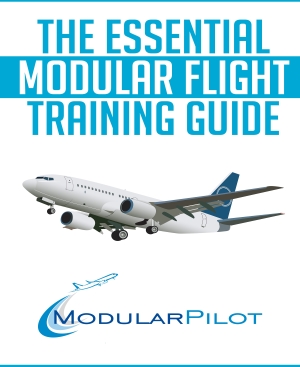 Subscribe to Modular Pilot via email