This is a big question that every aspiring pilot must answer, just how to I afford to follow this dream. I recommend every pilot take a long hard look at the finances of doing this. Lets look at the main ways for financing flight training.
Get the money from family – If you are in the position where a parent or family member can afford to give you the money to train, then this would be the best way. Paying cash and having no debt will be a massive bonus and will make the lower salary on offer less of an issue.
Repaid sponsorship – unfortunately there are not many of these around, in fact the only ones I know of are the BA Future Pilot Programme and the Aer Lingus program. Competition is ridiculously high but you should of course apply to this. I believe this is the best way into the profession.
Loan – This is the one that I really want to spend some time talking about. A popular way to fund the training with the big flight schools is a loan with BBVA. I think this is a horrible way for financing your flight training, let me tell you why.
You will take out a loan for around £100,000+ secured against either your, or your parents house. That should be first red flag, I will state it again. £100,000 loan secured against a house, you could make your parents homeless if you cannot afford to repay this.
The salary on offer does not allow you to comfortably service this loan and live a comfortable life. You will not have much spare money, you will have to live at home or even a bed sit / rent a room.
Currently we are at an all time low rate of 0.5% Bank of England interest rate. When I looked at this loan it was 3.0% apr PLUS the Bank of England interest rate. So the loan may be just about manageable now, what happens when the rates go up and the repayments get higher? Can you service this on a salary of £30,000? Not likely.
I understand the desire to fly is a strong one but please do not let your heart rule your head. This is not a good idea, at all.
Go Modular – If you can get a job, live frugally and save, the modular route works very well. It allows you to pay as you go and add ratings bit by bit. Yes it is still expensive but it costs quite a bit less than integrated training (£40,000-£60,000). However please remember you may be required to fund a type rating (up to £25,000) on top of this.
Thinking of training via the modular route? Or started and still have questions? Then read The Essential Modular Flight Training Guide.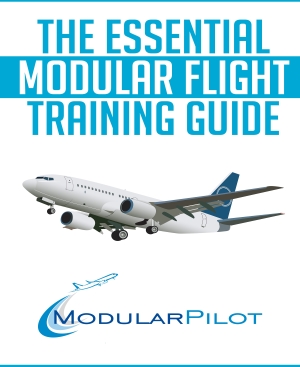 Subscribe to Modular Pilot via email