What has happened in the last 2 years?
Firstly, I am surprised that so many people have read my ramblings over the last few years.
The one good thing that has changed since I started this blog is that modular training is now rightfully seen as what it is, equal if not superior to integrated training. Yes, there is the odd airline who are only taking integrated students but this number is decreasing and is certainly less than when I started out. This can only be a good thing for anyone who stumbles across this blog and decides to start their own training.
Flight training has never cost in excess of £100,000 and there is no need to spend these sums, there is only one group benefiting from people paying this much money and it is not the pilot.
To everyone who reached out to find out what I am now doing, sorry about the lack of updates but hopefully this can give you some insight into what the last 2 years have looked like.
2020 if I'm being honest was a year of highs and lows, at the start of 2020 I started my first commercial flying job on a small regional turboprop. After years of training, to say it was an exciting time would be an understatement and with lots of hard work and studying, I made it through the type rating course.
However, just as I was finishing the first reports of COVID were starting to come out. Nobody knew what was going on during this period so I ended up at home sitting around waiting to see what would happen.
I was due to start line training not too long after lockdown.
This time was full of uncertainty as nobody knew what was going on, this included pilots, airlines, and the CAA. Eventually, towards the end of 2020 due to the lack of demand in the sector meant everything had to go on hold. This is where I was lucky the benefit of a previous career that I had not too long left was so important. I waited it out for a while but bills still needed paying so I returned back to my previous career and stayed there until earlier this year when I found out I could return to flying. I have had friends who have done all sorts of work during this time, from delivery drivers to working on COVID sites and supermarkets. I returned as a contractor taking on short-term temp work and I must admit that I was thankful that I could return to a reasonably well-paid job during this time.
Luckily, things improved in 2022 when the government lifted the restrictions, there was huge demand from everyone being restricted for the previous 2 years. Airlines are recruiting and even expanding, which is a good thing for us pilots. I have changed fleets and I am now on a large turboprop. I see a lot of people who were let go during this time have now returned either to their original airlines or have joined new ones so that can only be positive news.
Hopefully, things are only going to get better and I hope that more low-hour recruitment opens up so there are more opportunities for recent graduates.
Thinking of training via the modular route? Or started and still have questions? Then read The Essential Modular Flight Training Guide.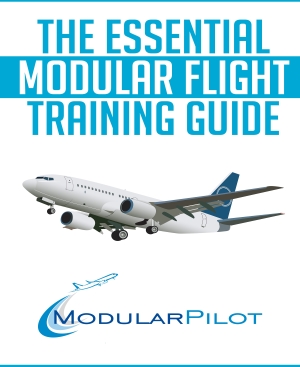 Subscribe to Modular Pilot via email