I am now choosing my ATPL Ground School – Bristol vs CATS. This is a real big step in my training as the ATPL's are 14 exams covering everything that a pilot needs to know and they are a huge undertaking with an estimated 650 hours of self study. This will take anywhere from 9 – 18 months on top of my day job.


As I need to keep working the only real choice for me is distance learning and I have picked these two for reasons I will explain below. There are of course others, but these are the two that work best for me.
First things first I need to do a pros and con for the two schools.
Bristol Ground School Pros
Wings Alliance member – Bristol Ground School is a member of the newly formed Wings Alliance which is a modular alliance of schools that have come together with a goal of placing students with airlines. Getting your first job is very hard so this is a very promising thing for me.
Excellent reviews – I haven't heard a single person have a bad word to say about Bristol, in fact every single person I have spoken to has had nothing but good things to say about them and have actively recommended I choose them.
Question bank – While anybody can subscribe to the question bank, the course comes with a one year subscription.
Helpful – I emailed them a few months back and the lady who replied was informative and prompt, she answered all of my questions without any delay.
Accelerator days – The course comes with accelerator days which allows you to get the help you need on any subjects that you are struggling with.
Regular revision weeks – Bristol seem to run at least one brush up course for each module every month. This doesn't leave you rushing to make a revision week if you do not feel ready yet. Also as I would need to book time of work to attend, having the flexibility is a huge plus.
Offline Apps – There is an offline PC / OSX app as well as iPad apps available. You also get the licence to use it on two computers and one iPad.
Bristol Ground School Cons
Distance – I live in Luton (the home of CATS) so Bristol is quite a distance from here.
Additional costs – To attend the brush up weeks I have to drive to Bristol and get a hotel as well as pay for food. At CATS I could just stay at home.
Price – The course at Bristol is more expensive than the standard course at CATS.
CATS Ground School Pros
Distance – I live around 5 minutes from CATS by car, this is a huge plus.
Price – The basic course at CATS is around £900 cheaper than Bristol Ground School.
CATS Ground School Cons
Mixed reviews – I have spoken to a few former students and the feedback I have gotten is mixed. Some say it's good, others were not as positive.
Response – I sent them an email a few months ago, to this day I still have not gotten a reply, this is a major red flag for me. What if I am stuck and need urgent help?
Not a wings alliance member – CATS are not a member of the newly formed Wings Alliance, this is another route to employment.
Big Gaps between brush up weeks – The brush up seems to be structured for every 4 months providing you can start at a point that makes sense for this. Say I started my stage 1 next month and I made the November stage 1 brush up, should I not be ready for the next stage two in May, but say I was in June, I would then have to wait until August before the revision week is next run, that's a lot of waiting.
Online only PC app – This is all well and good when you are near an internet connection however what about when you are on a plane or a train? The only way to see it offline is on an Ipad. While I do have an iPad I don't know how good the app is, I also have an iPad mini so not the biggest screen around.
So as you can see there are a lot of considerations to take into effect. The location of CATS is amazing for me and that will minimise any travel time and reduce any additional costs. The price is also excellent with the course without printed materials being just £1499.
Bristol have the great reviews as well as the staff being very helpful so far. I like that they are a member of the Wings Alliance as the school I plan to do my CPL / ME / IR are also a member of the alliance so that makes sense for me. I like the idea of the accelerator weeks so that if I get stuck, the help is there. I also like that they run the revision courses monthly.
On the negative side Bristol is on the other side of the country from me, the cost of the course is also more expensive than the CATS offering.
So, I have made my mind up, taking everything into consideration and looking at the bigger picture I have decided to choose Bristol Ground School.
My main reasons are the frequency of the revision weeks, how helpful the staff was via email (thanks Laura) and the accelerator weekends. Also I feel the Wings Alliance could be a really good route to employment by the time I finish.
So as soon as I get my license back from the CAA I will be signing up 🙂 ….now just the small matter of those 14 exams!
Thinking of training via the modular route? Or started and still have questions? Then read The Essential Modular Flight Training Guide.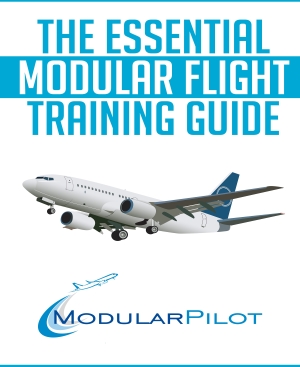 Subscribe to Modular Pilot via email