I currently have a pretty good job, I work in IT something I have done since leaving university. I earn a good enough salary and would actually most likely be taking a pay cut to become a pilot after all the training is done.
Why am I looking to make a career change to pilot?
Passion. While I like my job and I like to think I am pretty good at it (IT Engineer) I love planes! My favourite part of any holiday is the flight and I just find aircraft to be so fascinating and amazing.
I have always wanted to be a pilot deep down. The only thing that has stopped me is money. For this reason I went into my other passion of computers. Years ago I decided I was going to have a shot at this and I began to save with the intention to train the modular route.
I am now 30 years old so really if I am going to do this, it needs to be now. I also said that I wanted to begin my training around 30 and be able to pretty much go from one section to the next.
We spend a lot of our life working and I feel that people should be doing something they love and are passionate about. The happiest people are the ones who have jobs that they love to do. When we do something we love, we are not working at all, but getting paid for our hobby.
My intention is to stay working my job as long as possible, this is the beauty of the modular route. You can hold down a day job and study through the evenings and fly after work and/or at the weekends.
I have also been very passionate about travel all my life, in fact I would say it's my biggest interest.
At the end of the day, sometimes in life you just have to take a leap of faith. Yes this might be an expensive gamble that doesn't pay off but it's better to look back in 30 years and say "I tried" rather than "I wish I tried".
Fortune favours the brave and all that.
With a bit of luck an airline will see my passion and I will be able to complete my career change to pilot.
Thinking of training via the modular route? Or started and still have questions? Then read The Essential Modular Flight Training Guide.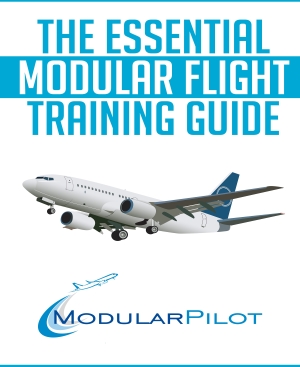 Subscribe to Modular Pilot via email