I have now been in Poland a month and a half, so here is my recap of CPL ME IR: Week 6
So I have finished my CPL program this week. I must say that my instructor was great. We finished with a few navigation flights and then he did 5 hours with me in the simulator to prepare for the next section.
I am glad to be on to the next section and as the test is actually done in the twin engine P2006T, I am done flying the single engine Technam P2008.
I must admit, I am not a huge fan of the Technam single. In my eyes, this is a microlight/ sport aircraft that has somehow got certified in the same groups as Cessnas / Pipers etc.
In my opinion it just does not perform the same as the Cessna 150/152 is so closely resembles. It is so light, easily disturbed, much harder to trim, does not seem to deliver the same power and will float a lot more on landing. The empty weight for instance is 430KG.
However, saying that, it is all you need for the CPL single program which is more about learning the CPL Navigation procedures and becoming familiar with flying in Poland. 
Anyways I have had 5 hours basic instrument training with my instructor before having the first sim session yesterday. The sim used at Bartolini is a Redbird simulator with motion (I need to get a photo).
The software it runs on is Microsoft Flight Simulator X which of course is pretty ancient and doesn't deliver amazing visuals. This however is IR practice so you are looking inside anyway, so that does not detract from the experience.
We did some basic intercepting radials and holding before moving on to flying an ILS approach plate.
You really need to get the SOP's drilled into your head, something I am working on doing. On top of this you need to get really familiar with the Garmin G1000.
There is a lot going on, it comes thick and fast and I can already see I will have to put in a lot of time between lessons for this to be successful. In fact I am about to spend a good few hours on it now before heading to the simulator this evening.
The sim instructor is away next week and I actually return to the UK to do some  things such as renew my medical and fly some hours. For this reason I hope we can get quite a lot done this week.
Thinking of training via the modular route? Or started and still have questions? Then read The Essential Modular Flight Training Guide.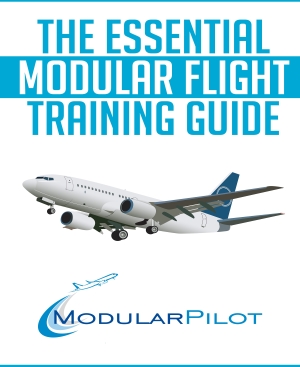 Subscribe to Modular Pilot via email