Wow what a glorious week of weather! I took the opportunity to do some hour building: Tatenhill & Wolverhampton Halfpenny Green.


I've been pretty quiet as I have been working on the ATPL exams and havent done much flying worthy of a post on it's own. However, when I saw that we were going to have a good week of weather I had to get up and get some hours built, as flying just 1.5 hours at a time wasn't really cutting it.
I have also done a few other flights over the last few weeks but they were just trips around say 50 miles of the field that I doubt you really want to hear about.
I have recently subscribed to Flyer Magazine for nothing more than their free landings. I have no idea why I haven't done this earlier as if you use just one it pays for itself.
This month it was Tatenhill, Halfpenny Green and Goodwood that took my interest.
19th April 2018 – Tatenhill
Firstly it was hot! Wearing jeans was most definatley the wrong idea.
I took of from Runway 20 at Henlow and routed "the long way round" which was towards Cambridge, over past Cranfield then up towards Tatenhill while getting a LARS service from East Midlands.
Well I say a LARS service but you only get a basic service outside of controlled airspace with East Midlands.
There was nobody on the radio at Tatenhill so I just addressed Tatenhill Traffic with my intentions.
I joined downwind and landed without incident.
I must say it is a pretty nice airfield and we was met with a warm welcome. I did uplift fuel, as I do try to make sure to take some if I am getting a free landing.
I was with a friend and we got some food before setting back off and heading back to Henlow on the reverse route.
It was a short visit but worth it as I built some good time.
Flying Time – 2.9 hours.
20th April 2018 – Wolverhampton Halfpenny Green 
Second up in the free landing tour was HalfPenny Green in Wolverhampton.
This time it was a departure from 26R which is the small runway at Henlow. Well I say small, it's more thing than it is small.
I chose to go a more direct route and departed south of Cranfield, up towards Wellesbourne and then into Halfpenny Green for a standard overhead join.
Wellesbourne seemed to be really busy, and I have heard good things about it so I need to visit at some point.
It got a bit choppy up closer to the airfield but nothing major to worry about.
I need to just say that the guys on the radio up there are excellent, some of the best I have encountered and both were really helpful.
Again I uplifted some fuel before parking and presenting the free landing voucher that was accepted without any issues.
The same friend was with me and we got some food before departing back to Henlow.
With the airfield closing at 6pm, I managed to make it back on the ground about 5:45, just in time.
Again another great day and some good time built.
Flying time  – 2.8 hours
I am now up to 107.1 hours and 61.2 PIC time.
Now I best get back to studying for the ATPL exams. I have just 1 slot booked next week which is next friday where if the weather is nice enough I am planning to get down to Goodwood, but time will tell on that one.
Thinking of training via the modular route? Or started and still have questions? Then read The Essential Modular Flight Training Guide.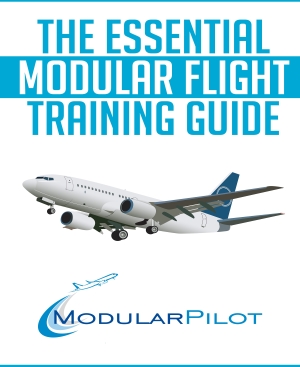 Subscribe to Modular Pilot via email