I am very excited to bring this Interview with Matt Dearden from Worst Place To Be A Pilot. I am sure most of us have seen the show and if you haven't then you really should as it's amazing! We manage to get a few minutes with him during some of his downtime from the flying.
1. Please tell me about your training for your fATPL.
Modular training was always the way I was going to gain my fATPL. When I started my journey to becoming a commercial pilot I was working in Bristol in IT and had nowhere near enough money to give up that job and go down the integrated route. So I started with my PPL with Aeros who were based just down the road from my office at Filton, Bristol. This took me around nine months although I probably could have completed it quicker but I wasn't in a rush at the time.
Next came the decision of where to do my commercial training. Although Aeros offered commercial training, this was only from their Gloucester base which was just a bit too far away for me so I decided to go with Bristol Flying Centre who were based at Bristol International Airport. This was only 15 minutes from my house which was very convenient and saved me a lot of money in travel and accommodation. I also managed to negotiate a decent hourly rate with them on a PA28 for my hour-building which I completed just under two years, although a year of that was taken up studying for the ATPL theory exams.
For the ATPL theory there was only one choice, Bristol Ground School. The fact they were based in Cheddar which is a five minute cycle from my house was just a coincidence. No other ground school has their reputation and I wasn't disappointed. The course materials, structure and teaching on the brush-up courses was excellent and I achieved an average of just under 98% for all the subjects which I passed on the first go.
Then it was on to the multi-engine and instrument rating. Having done all my hour building from Bristol, I was very familiar with operating from such a busy commercial airport and mixing with the big jets which definitely gave me an advantage. However, learning to fly a six-pack equipped Piper Seneca II under instrument conditions was, and still is, the hardest flying I have ever done! By doing the multi-engine and IR first, you get a large credit towards the commercial licence which I completed in a Piper Turbo Arrow III. This was a fantastic aircraft to fly and being so fast meant it wasn't as affected by drift as a slower type. I actually continued to fly it on occasion after completing my fATPL as I enjoyed it so much.
2. So you were qualified with your licence, how was the job hunt?
2009 was not a good time to be looking for a flying job. House prices were crashing, pilots were being laid off all over the place and the UK and most of Europe was entering a recession. So I applied to any operator, anywhere in the world flying any type of aircraft. I didn't get a single bite until a friend told me about an operator in Indonesia flying Cessna C208 Caravans which ultimately turned out to be by first flying job with just 230 hours or so to my name.
3. You then ended up in Indonesia, how did that come about?
Although I had heard of Indonesia, I didn't know exactly where it was but I applied anyway and was offered an interview in Munich with one of their senior pilots who lived there. I then heard nothing for a couple of months before an email out of the blue on a Sunday morning appeared in my inbox offering me the job and asking me to start in ten days time! So I resigned from my IT job on the Monday morning, packed my bags and bought a one-way ticket to Jakarta.
4. What is it like flying out there? How does it differ from everywhere else?
I have been here nearly seven years now and in that time have worked my way up the company from my original starting job as a co-pilot on the Caravans. I now fly the Pilatus PC-6 Turbo Porter, single pilot, in the mountains and jungles of Indonesia's western most province, Papua. Whilst the Caravan flying is basically an airline operation with a multi-crew environment and very regimented flying, the Porter operation in Papua is pure bush flying. I enjoy the challenges this kind of flying offers as you are free from the constraints of almost all other types of commercial flying and so do what you have to-do to get the job done safely. I can't think of any other kind of flying that requires you to fly under a cloud layer, below the mountains and up a valley towards an airstrip so steep that you could barely drive a Land Rover up it. Oh and there's no go-arounds!
5. What does an average day consist of for you?
There's not really such a thing as an average day from my current base of Wamena as we tend to do a lot of spot charters. We do however have a number of government contracts which are for subsidised routes from and to certain airstrips. A normal day will start with a 5:30am departure, or whenever the sun rises, to maximize the morning calmness. Once the sun gets up and starts heating the mountainsides you get all manner of winds and weather that are not safe to operate in when it comes to the really short airstrips.
6. For anyone who wants to follow in your footsteps, what advice do you have?
If you really only want to do bush flying then don't bother getting an EASA fATPL. It's expensive, time consuming and of no advantage over the cheaper and easier to obtain FAA CPL/IR which is accepted in any of the places you might wish to fly in the bush (e.g. Africa or SE Asia). Of course like most pilots I see come out here, bush flying is not for everyone and most pilots move on after a few years into an airline or similar job.
7. What aircraft have you been able to fly and which one is your favourite?
I'm often asked this and I guess it depends on what kind of flying you want to do. I've flown a few different types, from warbirds like the Catalina and Spitfire to more normal types like the Cub and Piper Warrior. I enjoy flying almost any aircraft and operating a Catalina on the water is absolutely awesome! However if I had to pick one type it would be the Piper Cub. No other aircraft I have flown has encapsulated the enjoyment of just hopping in and going for a flight like a Cub. It's beautifully harmonised on the controls, incredibly simple to operate and has it's third wheel at the right end.
8. What did you think of the tv show Worst place to be a pilot?
I loved being able to share what I do with not just my friends and family but also anyone who's interested in bush flying. It's the main reason I keep a blog. It is always very difficult to explain to people quite what it is I do, so having a TV series had made it much easier! It has also opened the eyes of many pilots to a type of career they probably didn't even know existed. Even today I still get people asking me when will they make a second series? Sadly I just don't know the answer to that one but I'm sure it would be a hit, just like the first one.
9. Do you ever see yourself returning to the UK and looking for an airline job?
Well, if you had asked me a couple of years ago I'd have said no way. However, as I get older I am starting to realise that there is more to life than bush flying. As much as I love the flying, living in such a remote location is hard and I now find myself wanting to do other things and in order to do that I need to be back in the UK. However, despite thousands of hours logged it seems airlines are not especially interested in my kind of flying experience so I'll keep on flying the bush until something else takes my fancy.
10. Is there anything you would like to add?
If you want a flying job deeply enough you can make it happen but you need to be flexible. Be willing to take any flying job, anywhere in the world as a first step on the ladder. It is far better than waiting for your dream job to come along!
We would like to thank Matt for taking the time to speak to us, please make sure that you follow him on his blog Bush Flying Diaries. If you would like to share your story then please contact us on the contact page.
Thinking of training via the modular route? Or started and still have questions? Then read The Essential Modular Flight Training Guide.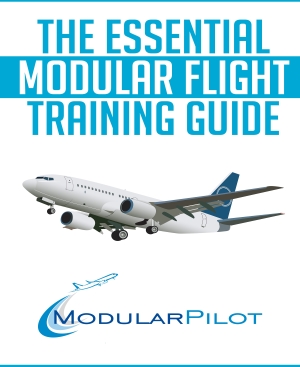 Subscribe to Modular Pilot via email