Today I went out for circuits at RAF Henlow.

Not an awful lot to say today.
I needed to get familiar with the procedures and flying at RAF Henlow so I decided to go up and do some circuits today.
Flying on grass is still a bit foreign to me, on the taxi I still feel like I am in a rally car but it is all good fun.
In total I did about 5 circuits. Taxi time at Henlow is quite a lot as the hangers are pretty far away. Every time I have gone to Henlow there has been a different runway in use. Today we was using 26 left with a right hand circuit.
Take off is with 10 degrees of flap and circuit height was 1000ft.
It was very choppy today and got worse as it went on, in the end I decided to land as the wind was getting to a point where it was making the flying very challenging. I think SkyDemon was showing 30-35 knots in the end.
I am still getting use to the procedures and the way things work at Henlow but practice makes perfect and all that so I look forward to flying more.
I also met a guy who was learning at Cranfield the same time I was and he is buying the other share in the aircraft so it will be good to meet up and do some flying together.
Thinking of training via the modular route? Or started and still have questions? Then read The Essential Modular Flight Training Guide.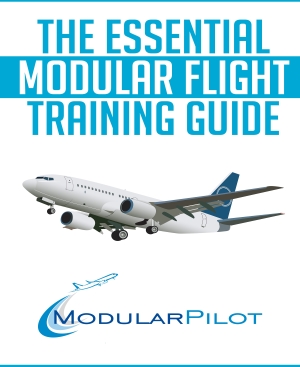 Subscribe to Modular Pilot via email