Today I went to the airfield and had PPL lesson 38: Forced landings with power and Diversions.
First of all it was really windy with winds of 230 / 30 at 2000ft! This made for a very bumpy ride and lots of manual handling!
On my check some orange stuff was sitting at the bottom of the fuel so of course I showed my instructor as I had no idea what it was. He seemed to be as confused as I was but after my instructor and operations talked between themselves and the chief flying instructor (CFI) came we discovered that it was actually water.
After that my instructor went to the plane to get rid of it all and then told me that we was good to go, so off we went!
We headed to Olney where he told me to divert to Alconbuy which is an USAF base (pictured). I use a tool call Wind Protractor by Olof Bakker. Trust me, these make diversion so unbelievably easy that I really do suggest you all look into it. It is actually VERY accurate and I will be doing a post soon showing you how to use them.
Once at Alconbury we diverted again to Little Staunton where another plane from the school was in the local area.
We did the practice force landing with power which is basically 2 passes to check the runway condition before you land. We didn't actually land but climbed to head back to Cranfield and the other aircraft came and joined us for some formation flying!
After this we headed back to Cranfield and got approved for a straight in approach which when you are in a 90kt plane in high wind takes a long time! I used the ILS for the first time to be aligned with the runway and we did a flapless approach (challenging work).
I finally landed and headed back into the school and tomorrow we are going to be doing profiles, which are mini tests.
Thinking of training via the modular route? Or started and still have questions? Then read The Essential Modular Flight Training Guide.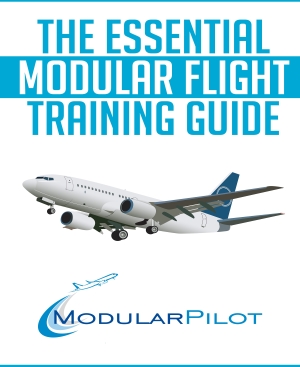 Subscribe to Modular Pilot via email